Fixed wireless uses a Point to Point Microwave technology to deliver high speed internet from one of our transmission sites to your business
.

From our datacentres, we run fibre optic cables to our transmission sites and beam out this signal to your business
.
So, what you're actually getting is a fibre service delivered over the air.
Fixed wireless isn't affected by the weather or storms making it a great option for business communications
.
What equipment 
is installed
on my building?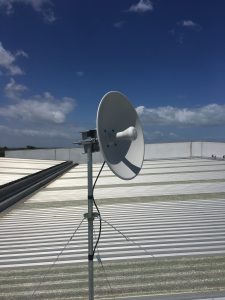 We install a small microwave dish on your roof and point it back to our transmission tower.
We run a cable from the microwave dish to your communications equipment inside so you can connect it to your router
.
If you'd like to find our more about how we can help your business with fixed wireless, please contact us on 1300 049 749.